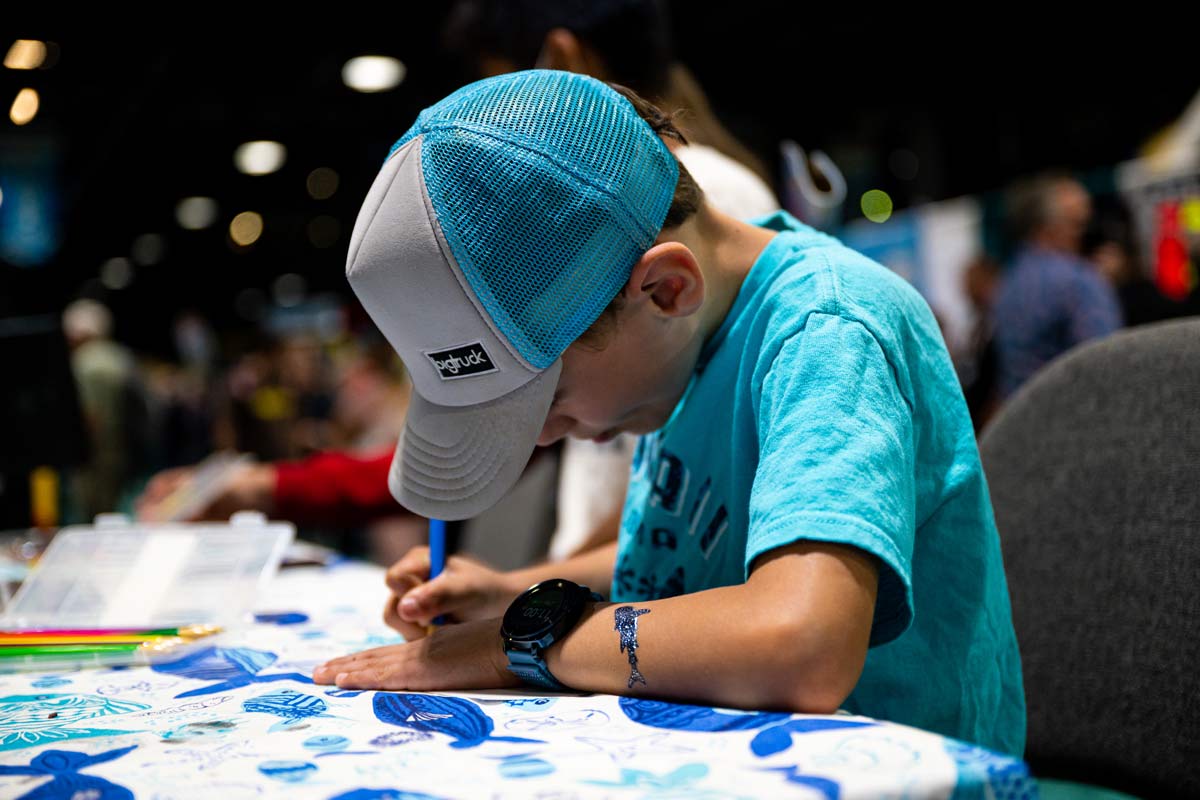 23 Apr

KIDS WELCOME AT SCUBA SHOW 2022
Meet a Professional Mermaid at Long Beach Convention Center, May 14-15, 2022
LONG BEACH, Calif. (April 20, 2022) – If ever there was a unique job description it's a professional mermaid. At the upcoming Scuba Show 2022 at the Long Beach Convention Center, May 14-15, kids can pose for selfies with a real mermaid appearing courtesy of Cape Cali, a mermaid-themed dive and swimwear brand based in Laguna Beach, California.
Entry into Scuba Show is free for children ages 13 and under. Parents will receive a free guide to kid-friendly activities upon entry into the show.
The finned spokesmermaid is just one of the many attractions at Scuba Show 2022, the largest dive-specific consumer exposition in the U.S.
Kids can help paint a mural and create sea-themed stickers with artist Doreen Hann, pose in a real shark cage, and take selfies with costumed sea characters.
The Aquarium of the Pacific, located a few blocks from the Long Beach Convention Center, will exhibit educational materials about ocean conservation and feature a live video feed of the Honda Blue Cavern, one of its popular exhibits.
TV personality Jaclyn Friedlander, author of the Friends with Fins children's book series, in a seminar will introduce children ages five to 12 to pre-scuba diving activities they can participate in until they are old enough to become certified. She'll also explain how families can work together to participate in ocean conservation efforts.
Kid-friendly Learn to Dive Programs
Kids take to snorkeling and scuba like, well, a fish to water. There will be numerous programs represented at Scuba Show 2022 designed to get the family's youngest minnows blowing bubbles underwater.
The Professional Association of Diving Instructors (PADI) will be there with information about its Bubblemakers and Seal Team learn-to-dive programs for ages eight and up.
NAUI, the National Association of Underwater Instructors, will provide details on its Junior Skin Diver certification class for eight-year-olds and older; even kids as young as age five can enjoy a "Snorkeling for Kids of All Ages" non-certification class.
Kids Sea Camp will be on hand to explain how it personally selects highly qualified family-friendly PADI 5-Star scuba diving resorts to co-create special family event trips that are 100% focused on family time, family activities, and family dive training.
For youth between the ages of 10 and 17, three $500 dive training grants will be given away through an essay contest, courtesy of Kids Sea Camp. In the essays, entrants are asked to explain who or what inspired their interest in diving and how they would give back to the ocean.
The essay winners can enroll in approved diving courses/programs at a PADI dive store located closest to the home of the recipient. Funds will be paid directly to the dive store. Winners will also receive a SCUBAPRO mask, fins & snorkel set. To enter the essay contest: https://tinyurl.com/PADIEssayContest
Scuba Schools of America will provide details on its Scuba Rangers program, one of the world's best-developed scuba and snorkeling programs for children – a diving school designed for children aged eight to 12.
Scuba Educators International will explain its program specifically designed to introduce individuals and families to the sport of snorkeling, especially families planning a vacation in warm, tropical water.
About Scuba Show 2022
The Long Beach Convention Center is located at 300 East Ocean Boulevard, Long Beach, California 90802.
Hours: Friday Professional Workshops, 8 a.m. – 5 p.m., Exhibit Hall and Seminars, Saturday, 10 a.m. – 6 p.m., and Sunday 10 a.m. – 5 p.m.
Tickets: $20 single-day exhibits only, $45 per day for exhibits and seminars, or $78 for a weekend all-access pass. Children 13 and under are free. Tickets are available online at scubashow.com/tickets.
For more information: www.scubashow.com
Scuba Show 2022, celebrating its 35th year, is organized by the publishers of California Diving News (cadivingnews.com), mail@scubashow.com.
Editor's note: To request Working Media credentials, click here: