Why you should consider exhibiting here?
Many of our past exhibitors felt that this was the best consumer dive show of the year. Please ask them. The SCUBA Show has had an average annual attendance of over 10,000 for the last 25 years and these divers are passionate. SCUBA Show 2019 will be the show's 32nd year! The following numbers are from a survey that was conducted after the 2018 SCUBA Show:
77% said they attended the show to see new gear.
75% said that they wanted to see dive destinations.
51% said they decided to purchase dive equipment as a result of the show.
33% decided to travel to a specific destination as a result of the show, with 37% still considering.
Why did you decide to come to SCUBA Show 2016?

Did you decide to purchase any dive equipment as a result of the show?

Did you decide to travel to a specific destination as a result of the show?

When was the last time you attended the SCUBA Show?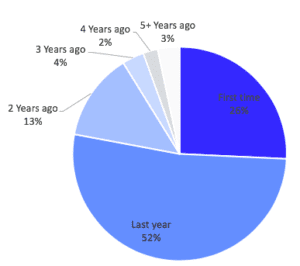 THE MARKET
Base population within one-hour driving radius of the show: 17+ million.
Large attendance from neighboring states (AZ, NV, UT).
California is the largest single diving market segment in the U.S. (source: DEMA).
Southern California has the largest concentration of divers in the world. PADI and many major equipment manufacturers are headquartered in Southern California.
California divers are the most active in the country (source: PADI).
151 dive retailers call California home, many of which send representatives and their customers to the show.
AGGRESSIVE & EFFECTIVE PROMOTION
SCUBA Show 2019 will be heavily advertised in California Diving News, the authority in California diving since 1984. Each issue will feature full display advertising for the SCUBA Show. Leading up to the show, the publication's circulation will increase by 41,000 mailed copies to reach past show attendees (in addition to current readers) with the SCUBA Show insert. The insert will appear in the April, May and June editions.
Monthly advertising in Dive Training magazine will ensure diver interest from all over the United States
Promotional cross-marketing to customers of diving's agencies in California and surrounding states.
Postal and electronic marketing to 41,000 divers who have attended in the past.
Email campaign to 210,000 local prospective divers, identified as "water" people.
Promotion (posters, discount coupons and counter displays) in every dive retailer in California and her client states of Nevada, Arizona, Utah, Washington and Oregon.
Promotion to the members of 65 California dive clubs.
Extensive digital marketing, including multiple channels of social media to target younger, more diverse attendees.
For 2018 we hired a public relations firm that placed us for interviews and live diving spots on several of the largest television stations in the Los Angeles viewing areas. We will retain their services again to publicize the show in 2019.
In addition, aggressive advertising in local mediums (especially radio) directed at the general public to assure large attendance from the huge and affluent local population, and direct mail to households of people that fit the 'diver profile' to expand the show's reach and bring in fresh faces.
EXHIBIT SELLOUT ANTICIPATED
Please keep in mind that previous SCUBA Shows have sold out exhibit space ahead of the show dates. SCUBA Show 2019 is also expected to sell quickly. To guarantee your participation in SCUBA Show 2019, you must have your application in early.