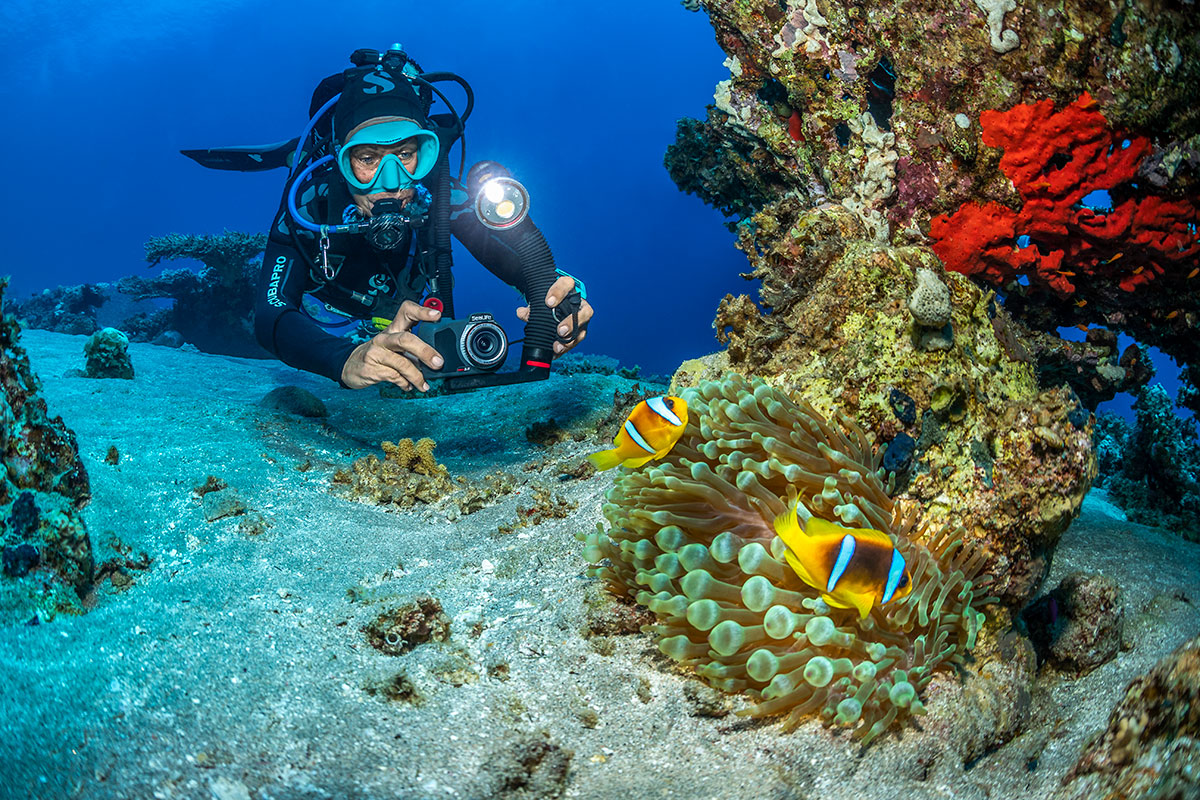 07 Apr

MAKE A SPLASH AT SCUBA SHOW 2022
Largest Consumer Scuba Exposition in U.S. Comes to Long Beach, May 14-15, 2022
I want to be under the sea!
LONG BEACH, California (March 17, 2022) – Scuba and snorkeling enthusiasts will welcome the country's largest scuba diving exposition when it returns to the Long Beach Convention Center after a two-year hiatus, May 14 to 15, 2022. Scuba Show 2022 will feature over 260 exhibitors – from dive gear companies to travel destinations from around the world – providing inspiration on where to find the next dive adventure, what to wear and how to stay comfortable and safe underwater.
All diving interests will be covered, from underwater photography and video, underwater hunting, wall diving, deep diving, to wreck diving, night diving, snorkeling, and observing sharks. And for those unfamiliar with scuba, Scuba Show is a great place to begin the adventure of becoming a diver, or to introduce friends to the magic of the underwater world.
An estimated 11,000 attendees will gain valuable tips through 74 educational seminars, travel videos, product demonstrations, and activities for the minnows of the family, with selfie-ready appearances by costumed characters, live mermaids, and the chance to step inside a great white shark diving cage. Artists of all ages and skill levels are invited to join California Diving News' art director, Doreen Hann, in creating ocean-inspired 3-D sculptures and a giant seascape.
"California has world-class diving right off its beaches, and by charter boats that take divers offshore and to the nearby islands," says show director Mark Young.
"California is also famous for its beautiful kelp forests and marine sanctuaries teeming with life, and shipwrecks with history. The state has hundreds of dive sites.
"Scuba Show draws participants from neighboring western states who are passionate about blowing bubbles underwater, and immersing themselves in the natural world," Young says.
The Latest in Dive Gear
From high tech dive computers to the latest in fins, wetsuits, buoyancy compensators (BC's), regulators, and dive accessories, Scuba Show will help beginners and experts alike decide the best gear for their particular dive interests. One popular exhibit by the 50-year-old California Wreck Divers is a display of vintage dive gear that illustrates how technology has dramatically improved the pastime.
Learn from the Experts
The L.A. Sheriff Reserve Dive Team will showcase search and rescue capabilities; and Jaclyn Friedlander, creator of Friends With Fins, will introduce children ages 5 to 12 to pre-scuba diving activities they can participate in until they are old enough to get certified.
Learn about the work of nonprofit organizations such as Fins Attached, Los Angeles Waterkeeper, and Sea Shepherd Conservation Society, all working diligently to protect the ocean environment.
Captain John Kades of the L.A. County Coroner's Office, will explain how divers can learn from past accidents – sometimes it's medically related, many times it's diver error – but all are thoroughly investigated to determine what went wrong; and Dr. Madhavi Colton, executive director of Coral Reef Alliance, will examine techniques for saving coral reefs threatened by climate change.
Another seminar by accomplished underwater filmmakers Jim and Pat Stayer will reveal the incredible intelligence of octopus, squid, and cuttlefish, otherwise known as cephalopods – with commentary by Dr. Roger Hanlon, senior scientist at Woods Hole, and one of the world's leading experts on these extraordinary sea creatures.
Dive travel expert Ken Knezick will host a discussion on traveling in (almost) post-pandemic times, addressing the dizzying array of entry requirements, vaccination stipulations, mandatory tests, quarantine concerns, and travel insurance options for destinations around the world. Exhibitors representing popular dive destinations will be on deck all weekend to talk attendees through booking travel as tourism rebounds around the globe.
California has the largest concentration and the most active divers in the country. Divers hold California in high regard as an underwater treasure. It's unique in the scuba world for its marine life, the number and sheer diversity of its diving locations, and its beauty below the waves.
The Long Beach Convention Center is located at 300 East Ocean Boulevard, Long Beach, California 90802.
Hours: Friday Professional Workshops, 8 a.m. – 5 p.m., Exhibit Hall and Seminars, Saturday, 10 a.m. – 6 p.m., and Sunday 10 a.m. – 5 p.m.
Tickets: Available at special advance pricing for a limited time. $15 single-day exhibits only ($20 at the door), $38 per day for exhibits and seminars ($45 at the door), or $65 for a weekend all-access pass ($78 at the door). Children 13 and under are free. Tickets are available at discounted prices online at scubashow.com/attendees/tickets.
For more information: www.scubashow.com
Scuba Show 2022, celebrating its 35th year, is organized by the publishers of California Diving News (cadivingnews.com), mail@scubashow.com.
Editor's note: To request Working Media credentials, click here:
https://tinyurl.com/scubashowmedia
Media contact:
Jeff Blumenfeld
Blumenfeld and Assoc. PR
203 326 1200, jeff@blumenfeldpr.com