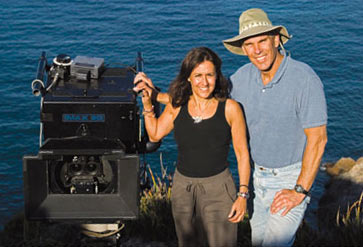 Howard and Michele Hall
The Halls are veteran divers who specialize in underwater giant format film production. IMAX films produced and/or directed by Howard and Michele include Into the Deep, Island of the Sharks, Deep Sea 3D, and Under the Sea 3D. The Halls have also contributed to many other giant format productions including The Living Sea, Journey Into Amazing Caves, Coral Reef Adventure, Journey to the South Pacific, Humpback Whales and Lost Worlds.
The Halls have produced numerous award-winning television films for PBS Nature, National Geographic, the BBC and other broadcasters. They are the recipients of seven Emmy Awards, and numerous other industry awards and recognitions.
Of the five highest-grossing 3D films produced by IMAX Corporation, two were directed by Howard Hall. Into the Deep has earned box office receipts of over $70 million and Deep Sea 3D has earned over $95 million. The Hall's recently-released Under the Sea 3D has earned over $53 million.
The Halls have strived to make family-friendly films that raise awareness of and increase appreciation for the marine environment. During the past 25 years, the films they have produced have been seen by thousands of children and adults. They have received positive feedback in letters, emails and in person from many who have said that not only have their films increased their knowledge of the marine environment, but they have also been the inspiration to turn career choices toward marine sciences and/or environmental issues.
Both Howard and Michele are recipients of the Academy of Underwater Arts and Sciences' (AUAS') NOGI Awards. In 2011 they were named Divers of the Year at Beneath the Sea, and were also inducted into the International Scuba Diving Hall of Fame. In 2013 they received the International Wildlife Film Festival's Lifetime Achievement Award for Marine Conservation & Media. They were recognized by the Jackson Hole Wildlife Film Festival with the Outstanding Achievement Award for Natural History Filmmaking in 2015. In 2016 they were named as honorees of the 2016 Hans Hass Award. Additional accolades in 2017 include the Our World Underwater Outstanding Achievement Award and Beneath the Sea's Diving Pioneer Award.
Howard holds a BS degree in zoology from San Diego State University. He is a member of the Directors Guild of America and the Academy of Motion Picture Arts and Sciences.
Michele is a Registered Nurse and holds a B.S. degree in Health Sciences. She is a member of the Television Academy of Arts and Sciences and the Women Divers Hall of Fame.