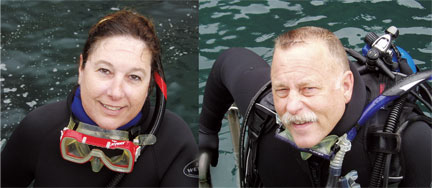 Dale and Kim Sheckler
This year's honoree is two people, Dale and Kim Sheckler. As the founders and previous owners of California Diving News and the SCUBA Show they made enormous and decades-long contributions to the health of the California diving market, and by the extent of the California market's influence, on the health of the entire diving industry.
A California native, Dale has been an active diver for 39 years. He has been a professional diver since 1977. He spent his early days collecting marine specimens, then as a commercial oil field diver, and since 1984 has been the founder and editor and publisher of California Diving News. Dale has generously shared his extensive knowledge about California dive sites, marine life, diving equipment and many other topics that interest those of us that love to explore California waters. His work has inspired thousands of divers to stay active and involved.
Over the course of his career, Dale also served the diving community in many other ways. He is a founding member of the Board of Directors for Catalina Conservancy Divers, and a past board member for Chamber Day, the largest fundraiser for the Catalina Hyperbaric Chamber. He has been a regular guest speaker at dive clubs sharing his expertise on a wide range of diving-related topics. Dale is an inductee into the California Wreck Divers Hall of Fame.
Kim Sheckler has been an equal partner not just in his personal life, but also in the business endeavors. For many years Dale's name has topped the masthead of California Diving News while Kim has taken the lead on the SCUBA Show serving as the show's Executive Director. They happily give each other equal credit for all of their works.
Kim has been diving, writing and creating photographs for nearly 30 years. In 2001 she was recognized for her numerous contributions to diving by being elected into the Women Divers Hall of Fame. In 2004 she was presented with the Historical Diving Society Nick Icorn Award for her continued support for the history of diving. Kim is an active member of the Undersea and Hyperbaric Medical Society and has served as a board member of the Catalina Conservancy Divers. She is also a registered nurse, and regularly volunteers at a local pregnancy resource center.
In addition, Dale and Kim co-authored several diving-related books. Among those The Diving and Snorkeling Guide to the Channel Islands, Southern California's Best Beach Dives and Successful Underwater Hunting and Gathering, California Edition.
In 2009 Kim and Dale were recognized for their efforts in converting out of service ships into artificial reefs as they were awarded the prestigious California Ships to Reefs Reef Builder Award.
Until recently Dale Sheckler had been the only editor the magazine has ever had in 27 years, and he and his wife/dive buddy and CDN executive editor Kim have produced the Long Beach SCUBA Show since its inception in 1988.
Dale and Kim decided to take a step back from their diving careers in order to spend more time with their family and extended family at their Catholic church, where Dale serves as a deacon and they both volunteer. Although they sold the businesses at the end of 2011, Dale and Kim are not stepping away from the diving community. They will stay on with California Diving News as regular contributors and with the SCUBA Show as advisors and volunteers.
While they owned the businesses it never would have occurred to Dale and Kim to consider the award for themselves, but few have been so deserving. It is with honor that we present it to them now.