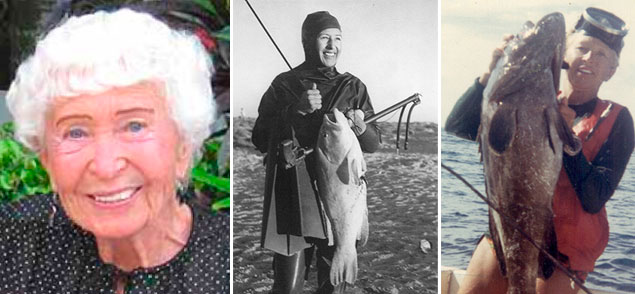 Dottie Frazier
1941: news reel at the movies — A person covered in canvas and gear, overalls and a welder's mask holding a rod in one hand and a torch in the other. You couldn't tell it was a woman until Katherine Hepburn took off the mask and looked straight into the camera and said "Democracy's in a jam."
The 1940s — and especially the first half of the decade — brought a massive change to the role of women in American society. Not only did women enter the wartime production process, but the whole perception about the capabilities of the so-called "weak gender" altered.
Dottie Frazier was already there.
Free Diver, Spearfisher, Instructor, Dive Store Pioneer, Commercial Diver, Actress
Dottie Frazier was born in July 1922 in Long Beach, California. According to her dad she should have been a male, and he decided to teach her all the things he would have taught a son. Swimming by 3, rowing her own skiff at 5, Dottie learned all about fishing and lived aboard boats more than on land. By 10, she was using a mask her dad made from bits of fire hose, tape, glass, and straps from an old inner tube, and became very proficient at spearing fish. By the time she was a teenager, catching lobsters was her specialty — she has taken many bugs over 25 lbs.
At only 100 pounds, Dottie would spearfish bringing up groupers nearly as big as she was, catching them on a breath or two of air. One 150 pound grouper drug her for almost a mile she recalls.
Growing up on the sea made it easy for Dottie to find work on commercial fishing boats as deck hand/cook, and on all-day fishing boats as galley girl for over 10 years. During that time she entered every skin diving contest she could, usually as the only female competitor, and taking her share of prizes. In the 1930s she became well known for her body surfing ability, took up snow and water skiing and board surfing. She bought her first Harley Davidson motorcycle, joined a local bike club and rode all over the state for several years. In 1940, Dottie started teaching skin diving classes.
Among her "firsts":
In 1955 Dottie became the first female scuba instructor in the world. She enrolled in the Los Angeles County Underwater Instructors Certification Course, which was considered too physically demanding for a female. Dottie took top honors in the class for waterworks amid some resentment from the other students (all men).
Dottie was the first woman to commercially produce both dry suits and wet suits. She began manufacturing her own line of wetsuits, and making suits for US Divers, Healthways, and Navy UDT teams.
Dottie was the first woman in the world to own a dive shop, named Penguin, where she ran dive classes and sold her wetsuits.
Dottie became one of the first women hardhat divers and worked at it for 2 years.
Dottie is the only female diver honored by inclusion in the Skin Diving History Museum
Dottie also raised four sons, who all became divers. She started a club called the 'Aqua Familias,' (diving couples with children) that met every weekend, with husbands and wives taking turns watching the children and diving.
She was an actress in several films that featured diving, including Beyond the Reef with a young Ron Howard.
In March 2000 Dottie became a member of the Women Divers Hall of Fame, and in 2001 she was honored as a Life Member of the second oldest dive club in the U.S., the Long Beach Neptunes. She is the only surviving founding member.
Dottie was still diving at 78, and just gave up motorcycle riding.
Dottie is a true diving pioneer, a strong influence in California's diving history, and we are honored to present her with this award.
Our thanks to the Women Divers Hall of Fame for help with Dottie's Biography.