Introducing the 2019 California Scuba Service Award Recipient: Glen Fritzler
You have to appreciate a kid who gets certified to dive at twelve, can't get enough of it and works his way early into a lifelong career that will allow hundreds of thousands of others to get hooked on California diving. The recipient of this year's California Scuba Service award is Glen Fritzler.
Glen started diving with his Dad at the age of 12, and growing up in Orange County spent practically every weekend diving the coves in Laguna Beach. Occasionally the father and son buddy team would jump on a charter dive boat from San Pedro bound for the Channel Islands. One day they joined skipper Roy Hauser on his 57' boat Truth to dive the backside of Catalina, and that's when Glen says that his life and his calling were sealed.
After falling in love with Roy's boat they went to sign up for another trip, only to learn that the boat had crashed at San Clemente Island and was a complete loss. When they went with Roy on a boat that he was using while starting construction of a larger Truth, Roy asked Glen if he wanted to spend a week to help build the boat. That week turned into moving in with Roy to work 7 days a week, all summer long. After the school year started, Glen and his Dad would spend weekends helping with the build, and after the boat was launched Glen became a deckhand. By 1979, at the minimum age of 19, Glen had acquired enough sea-time to sit for his captain's license to run the boat. That's when Roy proposed to let Glen build ownership in the operation, and their partnership began.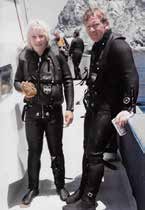 After running the Truth for a year, Roy and Glen decided to build a newer, larger vessel, and after 14 months working 7 days a week the Conception was launched in the summer of 1981. Conception was California's Crown Jewel of live aboard dive boats. Glen met the love of his life while skippering the Conception — on Dana's and Glen's first dive together they encountered a 17' white shark, truly a memorable first dive-date experience.
California diving was popular, business was booming and it was time for another boat. In the summer of 1984 they started construction on the Vision. During construction the lease for Santa Barbara's Sea Landing facility became available, and Roy and Glen secured the site. Today Sea Landing accommodates his three boats and Glen subleases the rest to watersports concessions including a whale watching boat, dive shop, and a jet ski rental company. Sea Landing has become the go-to-place for ocean activities in Santa Barbara.
In the summer of 1986 Glen and Dana married. They later started a family, and have a son Austin (a wild land firefighter), and daughter Ashley (an equestrian).
In the early 2000's luxury dive boats were popping up in warmer water destinations around the globe and California dive business started to slow. Roy had retired and Glen, needing a way to keep the boats operating, bid on a concessions contract with the Channel Islands National Park to take non-diving passengers to visit the islands. The trips include hosting the Sierra Club and various school groups — seniors and kids alike experience the Channel Islands for their first time onboard a Truth Aquatics vessel. Through these and other types of trips showcasing what the area has to offer, Glen hopes to bring California diving back as a worldwide destination.
As the Truth turns 45 this year, Glen estimates that the three boats have hosted over 450,000 divers, and 1.3 million California dives. We are proud to honor Glen's enormous contribution to the California diving scene with the 2019 California Scuba Service Award.