LLOYD BRIDGES
A guy starred in a television show, and millions of people never looked at the world the same way again. Lloyd Bridges, in the television series Sea Hunt, first appeared 60 years ago on the black and white television sets in millions of living rooms, and created waves of ocean lovers and divers for decades to follow.
For the unversed, Mike Nelson (played by Bridges), a former U.S. Navy frogman, was a free-lance scuba diver who was called on for dangerous underwater projects. In the pilot episode Mike rescued a Navy pilot from his sunken jet, and it went from there. From his boat the Argonaut, he salvaged everything from a bicycle to a nuclear missile, fought terrorists, rescued children trapped in a flooded cave, and rescued damsels in distress — played by co-star and diving legend Zale Parry. During his underwater encounters with guys in black (wet suits) someone's regulator hose invariably got cut.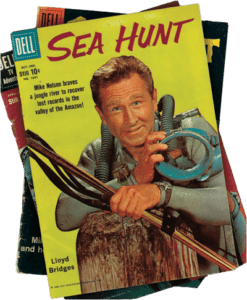 This went on for 156 episodes between 1958 and 1961. The show's producer was the legendary Ivan Tors. Within its first nine months, Sea Hunt ranked No.1 in ratings, with an average 50 percent share of audiences in 50 major cities. In New York City it averaged 60 percent of the audience. The show had similar audiences in other countries including the United Kingdom, Puerto Rico, Cuba, Mexico, Australia, Philippines and Japan. It was estimated that 40 million people watched the show on a weekly basis. That saturation in the earlier days of television had nearly everything to do with the show's legacy. The series served as a stepping stone for some of Hollywood's most notable actors, including Leonard Nimoy, Bruce Dern, Robert Conrad, Ross Martin, Larry Hagman, Jack Nicholson (seen in the last episode of this series), and Bridges' own sons, Beau and Jeff.
Viewers who missed it the first time through, along with a new audience of kids, could relive the drama during the show's heavy rerun cycle throughout the '60s and '70s. No dialogue was possible during the underwater sequences, so Bridges provided voice-over narration for all the episodes. In doing so he educated and inspired the audience in various aspects of diving and the underwater world. Then at the end of each episode, Bridges would appear as himself to deliver a comment that often included an appeal to viewers to understand and protect the marine environment. He loved the ocean, it was a personal plea. The total package that was Sea Hunt worked because Mike Nelson was so artfully portrayed by such a nice and obviously genuine, upstanding man.