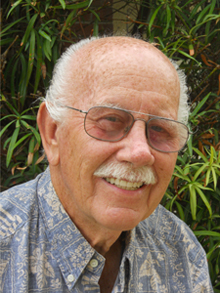 Dr. Sam Miller III
A diver's diver, a diver from the past, a diver of the present and a diver for the future. This year's honoree is Dr. Sam Miller III.
Sam's diving career began by chance in the 1940s. He contracted a serious eye infection while swimming in the local YMCA and his parents purchased a crude pair of swim goggles to protect his eyes so he could continue to participate in aquatic activities. After WW11 he helped develop an activity for which there were no full line manufacturers, no dive shops, no training manuals, no organizations, no magazines, few books, no approved name and very few participants. Sam became a very active pioneer goggler!
After service as a USAF officer during the Korean War he returned to his beloved California and resumed his diving activities. By then the wet suit had been introduced and divers were beginning to populate the beaches. Sam migrated into the world of diving instruction via the first and only program available at that time, the very prestigious and demanding LA County UW Instructor's program. A few years later he became a NAUI instructor followed by NASDS, SCIP, CMAS, PADI and a few others.
Sam is proud of his involvement in the pioneering era of recreational diving. He developed a number of the early SCUBA training exercises (many still utilized today), he was involved in creating the world's first advanced diving program, the LA Co ADP, and he was responsible for creating the diver classification system which has been universally accepted by most certifying agencies. Sam is a product of an era when diving skill was judged by game taken. His personal best are; Lobster 17Lbs 4 Oz, Halibut 38 Lbs, Yellow Tail 27 Lbs, White Sea Bass 49Lbs, and a Black Sea Bass at 345 Lbs.
His experience and diving knowledge led to him to consult for many of the early diving manufacturers, evaluating prototype equipment for diving performance, maintainability and marketability. Some of the equipment was rejected and many found their way into the mainstream of diving.
In his over six decades of diving he has been a member or an officer in a number of diving organizations, among them the Southern California Skin Divers, Long Beach Neptunes, Sea Sabres, LA Underwater Photographic Society, Orange County Underwater Photographic Society, Historical Diving Society and the California Classic Equipment Divers. As a member of the US Historical Diving Society he served on the founding board of directors and was HDS's first and only Director of Sport Diving. In 2007 he co-founded of the Ohio based "Legends of diving."
Sam has also published numerous articles including four dedicated diving columns in local and national publications, and authored the first US weekly newspaper dive column. He appeared on the cover and published numerous articles for Skin Diver magazine. A diving historian, he has the largest and most complete recreational diving library in the US, and possibly the world.
Sam has won numerous industry honors, including; Outstanding Contributions to Underwater Instruction, 1963,(LA Co), Outstanding Underwater Instructor of the year, 1969,(LA Co), Over the Hill Gang, 1984, (NAUI), Diving Dinosaurs, 1986, (NAUI), Platinum Pro 5000 Diver 1993, (SSI), Who's Who of SCUBA Diving, 1993, (Academy of Marine Science and Undersea Research), Father of Free Diving and Spear Fishing, 2000, (Free Dive List) , West Coast Leader and Legend, 2005, (Dive Chronicles) Dive Legend, 2007 (Legends of Diving.). Tonight we are proud to present Dr. Sam Miller III with the California SCUBA Service Award
Now retired to a beach community in central California, Sam stays actively involved in the diving community by writing occasional articles, doing historical research and is a regular presenter at the annual San Luis Obispo Professional Diving Conference. Sam is married to Betty, a college president and a vintage diver. They have a combined family of five children, who are also long term divers, and four grand children who Sam is eagerly looking forward to introducing to the sport.