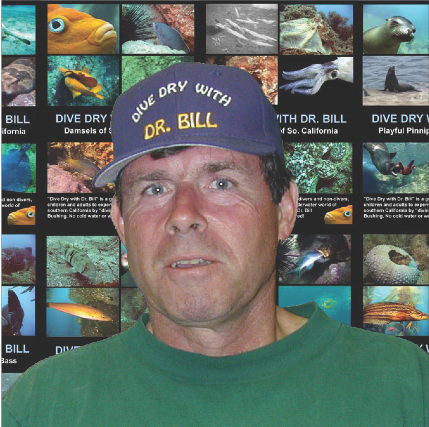 Dr. Bill Bushing
This year's honoree is Dr. Bill Bushing, affectionately known simply as "Dr. Bill" among the diving community. Dr. Bill began diving in 1961. He has logged thousands of dives mostly in Southern California waters for research and educational purposes. He has published over 450 newspaper columns and peer-reviewed scientific papers. Dr. Bill has been a resident marine biologist on Catalina Island since 1969 and served as a consultant for Jean-Michel and Jacques Yves Cousteau in Cousteau's Rediscovery of the World television documentary.
Dr. Bill's Ph.D. in marine ecology from the University of California Santa Barbara focused the giant kelp forests around Catalina Island. His research developed a methodology for creating a network of marine reserves.
In the 1990's Dr. Bill served as a consultant for the Santa Catalina Island Conservancy. During this period he instituted a number of important conservation programs including non-native invasive plant control and active ecological restoration of damaged sites.
Bill writes a weekly newspaper column, Dive Dry with Dr. Bill on marine life and ecology, and has two cable television programs. He has provided footage for PBS, NBC, ABC, CBS, The Weather Channel and other broadcast outlets as well as several DVDs on Southern California. Dr. Bushing has also produced 22 educational underwater videos, and lectures for various dive clubs and other marine or conservation oriented groups.
Dr. Bill has served on the Advisory Board of Oceanic Defense and was named to California Ships-to-Reefs Science Committee.